Henry Bos1
M, b. 1942, d. 4 January 1975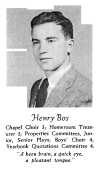 Henry
Bos
was born in 1942 in Netherlands.
1
He died on 4 January 1975 in Rotterdam, South Holland, Netherlands.
1
     Henry Bos immigrated in 1956.
1
He was a graduate of Ridgewood High School and attended Hope College in PA and Fairleigh Dickenson in Teaneck. He was formerly employed by Horn and Hardart in Totowa.
1
His obituary appeared on 9 January 1975 in the
Bergen Record
Henry Bos, formerly of Ridgewood, died in a carcrash in Rotterdam, at age 33. He came to the U.S. in 1955, and returned to Rotterdam in 1970. Surviving are brothers and sisters in the Netherlands, in Bergen and Rockland Counties, and in Canada.1
Citations
[S9] Record, Jan 9, 1975.